Language Creation Tribune
Issue 9
June 2016
---
A word from our President
Welcome to the 9th edition of the Language Creation Tribune. Summer is coming (at least for those in the Northern hemisphere), and I hope you are not all staying inside working on your conlangs, especially if the weather is nice. A breath of fresh air does wonders for one's creativity! I myself am writing this column from the beautiful and sunny island of Corfu, taking my own advice to heart. And it is needed: as you may have noticed, I haven't been very active as President of the LCS lately. Various circumstances have conspired to sap me of my energy, and I really need a recharge. So I apologise in advance for my lack of activity. I hope to get back on track in the next few months.
As you probably noticed, the last few months the LCS has mostly been busy with the Paramount vs. Axanar court case. I will not focus on it in this column (our position has been clearly stated in the link I just gave, and you can check the links below for even more information). Rather, I will just repeat that by intervening with our amicus brief, we did exactly what the LCS stands for: to promote and further the art and craft of language creation, and to ensure conlangers and non-conlangers alike can carry on enjoying our craft without hindrance. And we will stay vigilant in the future, to ensure it stays that way.
However, I realise that our focus on the Axanar case means we have not been focusing on our core activities, and I do understand if people find that irritating. I know some people have been asking these kinds of questions: "What about the next LCC?" "Where are the updated videos from the LCC6 that we've been promised?" "What about the LCS's social media presence?" And so on… I could once again explain that we are a volunteer organisation with limited time and energy, but in truth I agree that we (and by "we" I mean "I") have not been responsive enough lately, and I can only promise that we will pick up the slack in the next few months.
Concerning the next LCC, like last time an email will be sent within a few weeks to the Members' List kicking off the bidding round. However, you don't need to wait for it: as I know some people are already doing, if you are interested in hosting the next LCC, don't hesitate to start and looking for venues already.
As for the updated videos from the LCC6, the fault lies squarely with me, and a lack of ability to delegate, which is why I hereby ask for help: if you have experience with video editing and are interested in helping to get the ground work done so we finally get HD videos of the LCC6 presentations, please contact me privately, so I can explain to you what kind of work must be done.
I will also get back on track concerning our social media presence, so you can expect some kind of announcement in the next weeks.
Also, don't forget that your members' benefits, as described at the end of this newsletter, are always available to you all. Don't hesitate to make use of them. And if there are other things that we are not yet doing, but you think we should be working on them, don't hesitate to contact us with your ideas. We are always looking for more ways to support the conlanging community.
As usual, I can only say that the LCS wouldn't exist without your support, and I hope you will carry on supporting us, even when times are hard and we (or rather "I") have difficulties to stay on top of things. Your support does mean a lot, and helps us supporting you in return.
Fiat Lingua!
Christophe Grandsire-Koevoets,
President of the Language Creation Society.
---
Conlang Curiosities 
by John Quijada
Get It While You Can
Two common English verbs, "can" and "get", which native speakers such as myself take for granted as seemingly simple words signifying simple concepts, are in fact minefields of outright semantic anarchy. In fact, if their semantic patterning were to be exactly paralleled in a conlang, the community-at-large would berate the conlang as being unrealistic, a joke-lang, or a sure sign of newbishness.
Nevertheless, reality is stranger than fiction (as is usually the case) and the lexico-semantic bizarreness of these two "simple" English words is worth looking at if only to demonstrate that the great majority of natlang-style conlangs are too regular and too lacking in the subtly outlandish oddities found in real-world natural languages. In this respect, exploring the semantic patterns of these two English words is worthwhile for any artlanger or natlang-style conlanger.
One way to appreciate the semantics of English "get" is to see how its various meanings are translated into another language, say, Italian, where every single instance of this little English word requires a completely different verb:
I got it yesterday. → L'ho recevuto ieri. ("I received it yesterday.")
Get me my wallet. → Portimi il portafoglio. ("Bring me the wallet.")
I don't get it. → Non lo capisco. ("I don't understand it.")
He's getting old. → Diventa vecchio. ("He becomes old.")
I'll try to get there on time. → Tentarò di arrivare a tempo. ("I'll try to arrive on time.")
You're going to get it! → Ti farai sgridare. ( "You'll make yourself scold." [idiomatic construction])
Did you get ahold of him? → Hai potuto parlare con lui? ("Were you able to speak with him.")
I get 20 euros an hour. → Guadagno 20 euro all'ora. ("I earn 20 euros per hour.")
Can you get me some money? → Puoi procurarmi del denaro? ("Can you procure me some money?")
A lot of cars get sold here. → Si vendono molte macchine qui. ("Many cars sell themselves here.")
And let's look at our poor little defective modal verb "can", which means:
"be permitted to", e.g., You can go now.
"have the potential to or possibility of", e.g., It can flood this time of year.
"have the opportunity to", e.g., I can ask about it when I arrive.
"have the physical capacity or ability to", e.g., Can you touch your toes?
"offer to", e.g., I can sing for you if you like.
"know how to", e.g., I can swim, can you?
Anyone who's studied Romance languages knows that the lexico-semantics of English "can" do not map in a one- to-one correspondence to those languages' verb of potential/capacity, e.g., English "I can see you" = Spanish "Te veo", French "Je te voix".
So the curious conlanger looking to impose curiosities within one's conlang might do well to play around with the lexico-semantic ranges of certain "common" words (perhaps using a dart board or some Dungeons & Dragons twenty-sided dice) to achieve similar effects. And perhaps such shattering of lexico-semantic boundaries might even result in something as bizarre as the one additional meaning of English "can" that I left out above:
"I bought a can of tomatoes."

---
Conlanging News
Articles and online media relevant to conlanging
The Atlantic published this article titled "The Man who Invented Dothraki: How one linguist creates obsessively detailed—and fully functional—languages for Game of Thrones and other shows."
Unwinnable published an article about building languages in video games.
Several sources provided articles about the Paramount v. Axanar case, including NPR, Hollywood Reporter, and Mother Board.
Fiat Lingua's latest articles
March 2016: "Gnóma: A Brief Grammatical Sketch of a Conlang" by Jessie Sams

Abstract: "Gnóma is a conlang for garden gnomes, who have a grim past behind their currently pleasant statued smiles. Their language is rooted in Gothic (as that was their native language) and has been influenced by both Romani and Turkish through long periods of language contact. The description of Gnóma in this paper treats it as a natlang, comparing it to typological trends of world languages and providing a brief overview of its sounds, writing system, and grammar."

April 2016: "Invented Languages: From Wilkins' Real Character to Avatar's Na'vi" (collected) by Angela Carpenter

Abstract: "Angela Carpenter taught an undergraduate course on conlanging at Wellesley College during the fall semester of 2015. Collected in one .pdf are the final papers of the students from her course. In each paper, the student has documented their conlang and presented a text in that conlang. The document also contains links to audio recordings of the included texts."

May 2016: "The Slovio Myth" by Jan van Steenbergen

Abstract: "The "universal simplified language Slovio" has been controversial since it was first published on the Internet in 2001. It claims to be immediately understood by 400 million people, and to be mutually understandable with all Slavic and Baltic languages. The impression is given that Slovio is a huge project, spoken by hundreds or even thousands of people and officially supported by major international organizations. At the very centre of a large network of websites in Slovio is the site Slovio.com, featuring a complete grammar, learning materials and an exceptionally large dictionary. But even though Slovio is being vigorously propagated as a serious rival for Esperanto, it also claims to be first and only Pan-Slavic language, and in spite of its declared global intentions, the motor behind Slovio appears to be radical Slavic nationalism more than anything else. In this paper, Jan tries to determine what Slovio is really about and on what scale it is really used, in other words, to separate myths from facts."
Call for submission: Fiat Lingua publishes everything conlang-related, including reviews of conlang-relevant books, conlang grammars, essays on style, conlang criticism, scholarly work on a conlang-related topic, and conlang artwork and prose or poetic composition. If you have something you'd like to publish or have an idea you think might work as an article, email fiatlingua@

null

conlang.org. All submissions must be in PDF format.
Conlangery podcasts
March 2016

Conlangery #117: Kash
Description: A discussion on last year's Smiley winner, Kash.

April 2016

Conlangery #118: Linguistics Databases
Description: An overview of online linguistics databases.

May 2016

Conlangery #119: Paramount v Axanar
Description: A discussion with Sai, Christophe, and attorney Mark Randazza about the Paramount v Axanar case.
---
LCS Member Milestones
William Barton published the second book of his conlang-related SF/F series: Venusworld Book2: White Sea Crossings.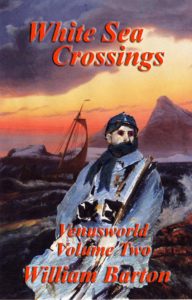 Alexis Huchelmann writes, "In mid-June, I'll present before a jury the first part of my master thesis (linguistics) at the University of Strasbourg. It's a basic review of the nature and history of conlangs and existing research in the field. I had the good luck to write it under the patronage of Hélène Vassiliadou, who encouraged me to describe in the second part the complete creation of a language, from scratch."
---
LCS Membership benefits
You can find more information about becoming a member, as well as more information on the benefits, here.
Two permanent yournamehere.conlang.org domain names and free full web and email hosting; for more information or to fill out the form to claim a domain name, please visit this page.
Checkout privileges for the LCS Lending Library.
Access to a Hightail account (you can find more information about Hightail, an online file server, at its website); please email Sylvia to create your account.
Full voting rights in the LCS.
Discounts on all LCS events.
Please direct any questions you have regarding LCS membership to memberships@nullconlang.org. Also, all communication regarding your membership will come from that address as well, so please white-list memberships@nullconlang.org.
---
You shop. Amazon gives. If you shop Amazon, you can now support the LCS by using this Amazon link for your shopping. Amazon will give a percentage of its profits on all the purchases you make through that link to the LCS.